Introducing Eco Smart73, the environmentally friendly solution for regulating water temperature for hot tub owners. It's a system that can dramatically reduce running costs and contribute to protecting planet Earth, and with energy prices soaring there has never been a better time to look at an alternative technology for heating AND cooling your hot tub.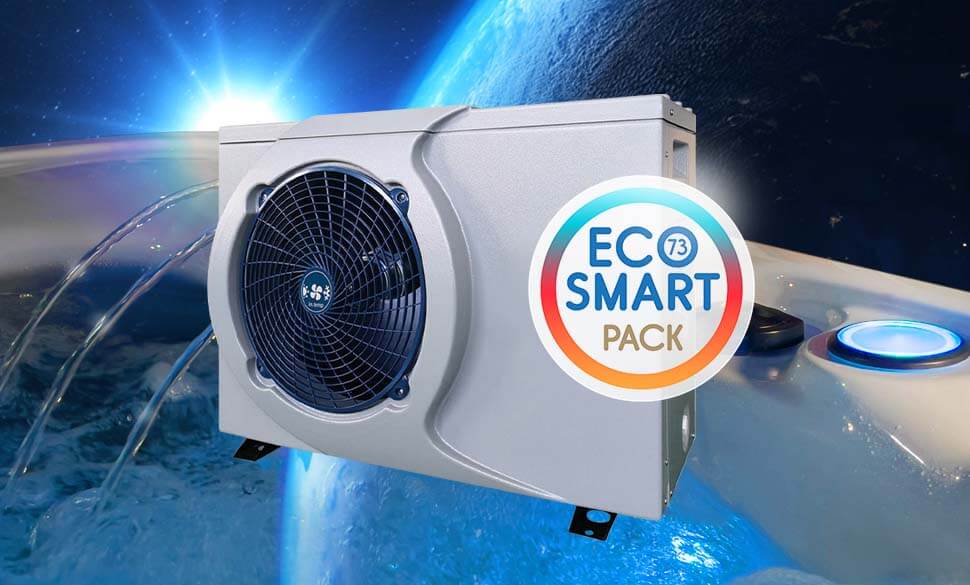 Eco Smart73 uses world class Air Source Heat Pump (ASHP) technology that's quiet and reliable. It's an incredibly energy-efficient system that offers substantial savings when compared with the cost of power that's generated by harmful fossil fuels, and that's good news for lowering your carbon footprint too.
Eco Smart73 operates in the same way that an air conditioning unit does, by drawing surrounding air through a fan, and into an exchanger. An environmentally friendly refrigerant is pumped through copper coils and ultimately switches between either heating or cooling. The system has 6 convenient operating modes that are all neatly integrated through your Earth Spas control panel, with clear and simple settings. A user-friendly solution, it's plug and play at its very best.
As an investment, upgrading your Earth Spa to incorporate Eco Smart73 technology will start saving you money from day one, and the total cost of the package could be fully repaid in less than 3 years, depending on individual use.
Additional benefits include:
Easy installation
Extremely low maintenance
Will operate in relatively extreme temperatures, from -20˚C to +45˚C
Long-term reliability
The Eco Smart73 system also has an optional cabinet to protect the ASHP. It's neatly styled to match the Earth Spas cabinet construction, and a circular opening allows air to be drawn in through the fan.
Find out more about the Eco Smart73 upgrade through your local dealer.
The Earth Spas range of hot tubs looks after your inner wellbeing, as well as our environment. Eco Smart73 underlines our commitment to reducing carbon production, while we relax and enjoy our spa-time experiences.