If you've come across our range, you may be wondering which spa is right for you?
With every spa including led lighting, bluetooth music, advanced hydrotherapy – we know it might seem a tough choice. 
But, don't stress, every spa has been designed to suit different usages so we're here to break it down to make your choice simple.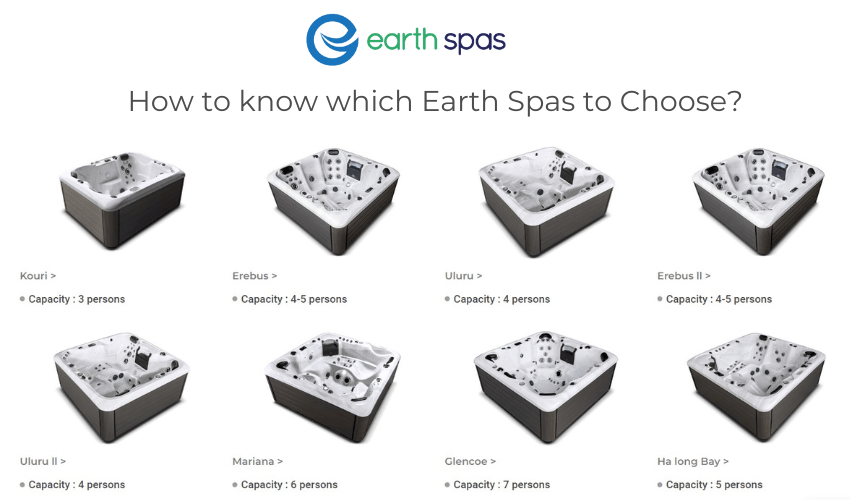 Lets Think Size…
Size is important! First things first, lets work out what you can actually fit in your garden. If you have a large space and size isn't an issue, then the choice is yours. However, if youre tight on room or have a non conventional shape, you may find one of our smaller spas to be more practical. 
The Kouri was designed for those who need a smaller spa. With a width of 215cm but only 170cm wide, this spa can fit perfectly in almost any garden. 
If you think smaller, means less luxury, think again. This ultra-compact double lounger specification makes facing and relaxing together simple. With the added benefit of the in built cooler, the Kouri is the ultimate choice. 
See more information on our Kouri model. 
Who will be using it?
This may seem a blatant question, but one worse answering. WHo are you buying it for and overall, who will be using it the most. Whole family, social gatherings, couples? 
You will find that each Earth Spas configuration may be more suited to how you will use your spa the most. 
Although not limited, below we have listed the most likely uses of each model: 
Kouri: Couples 
Erebus/II – Couple plus occasional friends or a small family 
Uluru/II – Couples but with more of an active lifestyle
Mariana – Large Families
Glencoe – Family/Friend Gatherings
Ha Long Bay – Large Family/Friends
How Powerful do you want the jets to be?
All of the Earth spas are packed with powerful jets and have advanced hydrotherapy. However if you're looking for additional HP and oomph, then some of our range are more suited to your needs. 
The Erebus II and Uluru II models have additional pumps for this very reason. So if it's power and high intensity, you're after, take a look at these models. 
I want an Eco-friendly spa that doesn't cost as much to run!
Well, here you are in luck. Our entire range has been built for that very reason. Each and every model comes EcoSmart ready and able to reep the full benefits. 
Cheaper to run, better for the environment and oozing with quality. 
Visit our full Earth Spas range and find your perfect Earth spa today.